Barry's Professional-Car Links Page
Please do not email me requesting a link exchange, as I do not have time to edit this site.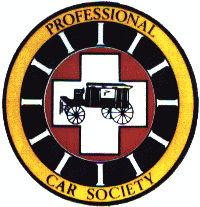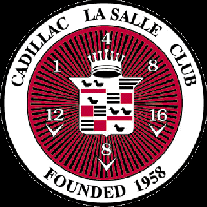 I am a member of all three of these fine organizations. See my text below. Clicking on any of these logos will take you to the official website of that club, giving you club information and lots of other neat stuff.
The sites linked from this page (below) are mostly related to vintage ambulances, funeral cars, limousines, and Checker taxicabs, collectively known as "Professional-Cars".Enjoy!
By the way, I'd like to thank those of you who have put up a link to this page on yours. It is appreciated. Thanks also to those who have sent me links to use on this site. I apologize for not answering you. I hope to add most of those links in my next update.
---
Table of Contents for the links section
1)Club websites
Links to the official homepages for professional car clubs, hearse clubs, some single marque clubs (such as Cadillac, Lincoln, Buick, etc.), and other related clubs.
2)On-line hearse clubs, including Yahoo clubs
3)Personal Homepages
Websites from private individuals relating to professional cars in general, or about their own professional cars.
4)Dealer sites
Websites from new and used hearse and limousine dealers across the country
5)Coachbuilder sites
Websites from the various makers of professional cars
6)Commercial sites
Websites from limousine services, parts suppliers, gift catalogs, literature dealers, toy sellers, etc.
7)Imperial related sites
Websites for fans of Chrysler's flagship, the Imperial.
8)Cadillac related sites
Websites for fans of Cadillac
9)Sites concerning other makes
Websites concerning various types of cars, and various makes that I happen to like.
10)Tractor and engine sites
11)Chat room and message boards
12)Miscellaneous sites
---
Note: If you'd like to see pictures, please visit my Webshots photo galleries. There are 4 galleries there at the moment, including one gallery of old cars. It has pictures of my old ambulance, both of my old hearses, my limo, and so on. The link is at the bottom of this page, above the webrings. Note: Each gallery has a guestbook where you can leave comments about any of the pictures.
---
Before you look at the links, here is a little bit about what professional cars I've owned and what kinds of cars I like:
Many years ago I owned a 1963 Superior Cadillac Sovereign landau-style end-loading funeral coach, with suicide doors. I sold it to some local clam diggers back around 1986 or so. It now sits somewhere in a junkyard, and is a basket case, as far as I know. In September 1997 I bought a 1974 Miller-Meteor Cadillac Criterion 54" hightop ambulance. I bought it in Denver, Colorado, from an ambulance dealer owned by a PCS member. It had been taken out of service in June of 1996 by the hospital that had it since new. I was the first and only owner since it was taken out of service. In early August of 1999 I sold the car to an EMS squad for parade use and what have you. In December 1998 I bought a 1970 Miller-Meteor Cadillac Landau Traditional landau-style end-loading funeral coach. It was white with black crinkle roof, and I kept a brand new steel casket in it. In December of 2000 I sold the car to an enthusiast in Delaware. I now own a 1979 Cadillac Fleetwood 75 limousine, which I bought in November of 2000. It is white with black vinyl roof. I am a proud member of The Professional Car Society , and The Cadillac/LaSalle Club . I am also a member of the American Station Wagon Owner's Association, the Northeast Imperial Owner's Club, and Southern California Imperial Owners Inc. My vehicle I use as a daily driver is a 1987 Ford F-150 4-wheel drive pickup that I've had since new. (Yes, I drive a pickup truck every day!)
My ultimate ambulance would be the one I sold last year (mentioned above). It was the exact year, make and model I want, plus it was equipped exactly as I would want. It had Mars 888 front tunnel lights, a mint condition Federal Q2b siren, and a highback captain's chair in the rear compartment on the passenger side of the car, next to the side door. But I had to sell it for financial reasons. See my PhotoPoint galleries for pictures. Another ambulance I wouldn't mind having would be an Amblewagon conversion of a 60s or 70s Chrysler Town & Country. My ultimate hearse would be any Superior Cadillac landau-style endloader, with suicide doors, from the years 1959-1964 (especially 1959), but a `63 or `64 Eureka Cadillac landau endloader would do in a pinch. My ultimate limousine would be any Ghia Imperial from the years 1957-1965. In addition, I love all hearses, limos, and ambulances of the late 20's through the early 40's, especially carved hearses (gothic and carved-drape).
Besides Professional Cars, I also am interested in 1959-1976 Cadillacs, 1957-1975 Imperials, 1958-1979 Lincolns, and also just about any full-size or mid-size car of the 60's or 70's. This includes Checkers, Corvairs, Corvettes, Rolls-Royces, most station wagons, muscle cars, etc. My ultimate station wagon would be a `74 to `77 Chrysler Town & Country, or any `71 to `76 Buick, Chevy, Olds, or Pontiac full size with the "disappearing tailgate". A nice Cadillac wagon conversion would be cool too, but those are very hard to find. I also like pickup trucks, especially Fords. My ultimate pickup would be an early 90s Ford F-350 4-wheel drive, crew-cab pickup, with Navistar 7.3 liter Powerstroke Diesel and a 5-speed. My ultimate 4X4 vehicle of any kind would be a Lamborghini LM002. Those things were awesome! Some cars of the late 20's and early 30's that I like, in no particular order, are: Cunningham V-9, Stutz DV32, Duesenberg J and SJ, Cord L29, Rolls Royce, Cadillac, Lincoln, Chrysler Imperial, Marmon V-16. Some foreign cars I like are Citroen, and the VW "Microbus", Beetle, and Type 3 wagon ("Squareback"). I also like the VW New Beetle. Other new or recent cars I like include the Dodge Viper V10, any late model Bentley Turbo R, Lamborghini Countach, Acura NSX, Dodge Stealth/Mitsubishi 3000GT.
---
1)Clubs
For 1957 to 1960 Cadillac Eldorado Brougham owners and enthusiasts
Wait for all the graphics to load. It will be worth it!
A British Hearse club, with similar ideas and goals as the PCS
A hearse club in Queensland, Australia
The Yahoo club for fans of Cotner-Bevington professional cars